We provide free stream hosting for bands, artists, community radio stations and DJs, or anyone that just wants to have a go at broadcasting their own music or talk shows. With our fast, reliable servers, you don't need to worry about your stream buffering when you get too many listeners for your connection to handle - we take care of the bandwidth requirements for you.
---
---
What do I get?
We provide you with a Shoutcast server and the tools needed to get you ready to stream your first radio show.
If you don't have any "Internet streaming" experience, then don't worry - it's easy and FREE! You can be streaming within 10 minutes after installing the free streaming software.
Once you have signed up, you will receive an email with your server login details and a link to your radio stream webpage, which will be in the format myradiostream.com/yourname
You will also be able to change the background image/colour of your page to customise it to match your own website.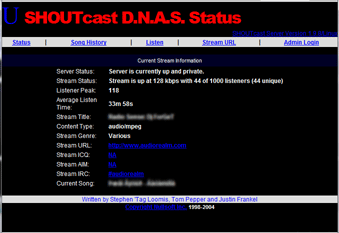 ---
REGISTER FOR YOUR FREE ACCOUNT
What will be on my stream page?
Your webpage will contain an embedded Flash player which will start playing your stream within a few seconds of going on to the page. There will also be some links for those that prefer to listen using Winamp or Windows Media Player.
You can also add any or all of the following features to your webpage:
Chatroom - So your listeners can communicate with you and eachother
Information about your stream (such as station name, short description) and links to related websites
Will I ever have to pay?
You will never have to pay for streaming from MyRadioStream, however we do offer an upgrade option that has additional benefits to a free account.
How is it possible to give free Shoutcast servers away?
We can provide free Shoutcast servers because we serve ads on the webpage for your station. It costs many £100s every month to run high bandwidth streaming servers. This is why we ask you to link your listeners to your stream webpage rather than offering a direct tune in link to the Shoutcast server (which is disabled).
Once your listeners have visited your station page, the stream will start through our flash player, however they do then have the option to use their preferred player (such as Winamp, Windows Media or Real).
Once your listener is tuned in using an external player, they can navigate away from your stream webpage and continue listening.
Is there a control panel?
Yes, we offer a control panel where you can start/stop and make configuration changes to your free Shoutcast server.
If you already have an account then please log in here.
Are there any more extras?
All MyRadioStream users are now listed on the StationFinder.org toolbar and we are open to any suggestions on how we can improve the service.