Back
Shoutcast YP (Authhash)
When Shoutcast V1 was supported, getting listed on shoutcast.com was very simple, you just had to set your server to public and the rest was automated. However, since the changes in V2.5 it is now a requirement to register your station directly with Shoutcast in the same way thay you do with other directories. Once you enter your information, you're given an Authhash to apply to your server.
Important This guide will only work with SHOUTcast Version 2.6. If you are using Version 2.5 or earlier then you will not be able to create a new Authhash.
What is an Authhash?
When you register with Shoutcast, you are given an Authhash. It is a long code that's generated by Shoutcast in order for you to get listed on the Shoutcast website and use the Radiomanager for monetization.
Do I need an Authhash?
No, it is completely optional, your server will work just the same without an Authhash. The only difference is that you will not be listed on the Shoutcast website.
Registering your station
1. Go to the Shoutcast registration website https://accounts.shoutcast.com and create an account.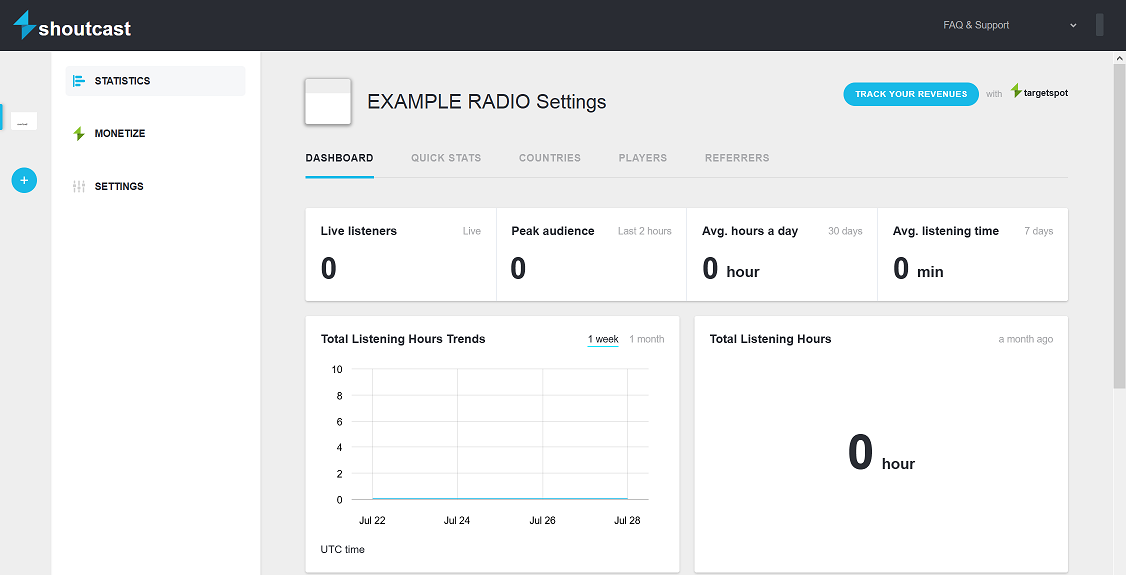 2. Once you have created an account, log in and click the Radiomanager link in the user menu: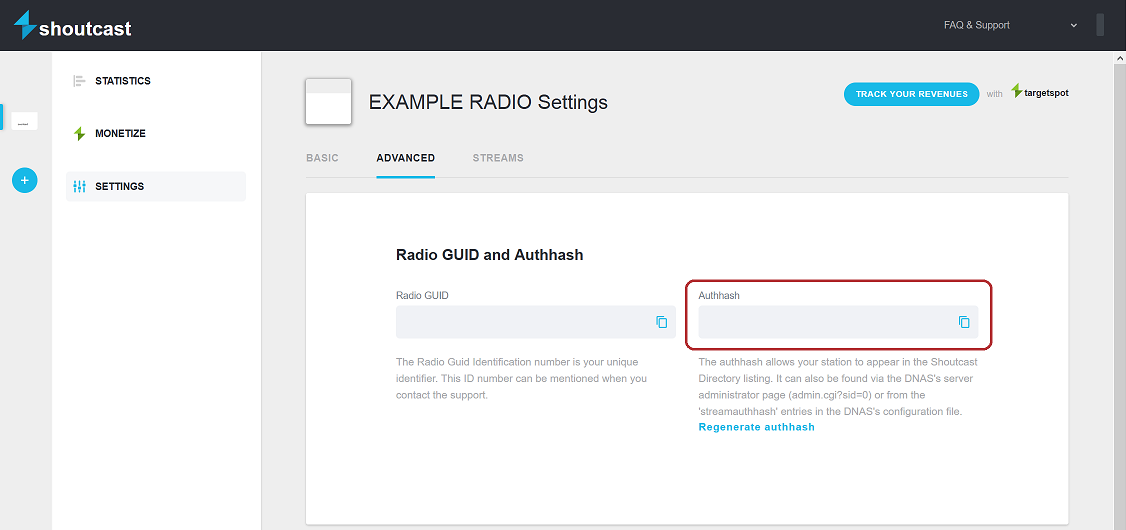 3. The first time you go to the Radiomanager, click on the 'You Host Your Radio Station' button:
4. You will be asked to choose between Freemium and Premium. To get listed for free, click the Freemium option, but be aware that if you stream above 128k then the directory won't list your stream. In order to list a stream above 128k you will need to pay $9.90 per month to Shoutcast for the Premium listing.
5. Enter your station details as requested, once complete, click
6. You will see the Statistics page, click on SETTINGS in the main menu.
7. Select the ADVANCED tab and you will see your Authhash listed.
8. Copy your Authhash and enter this into your server settings. You may need to restart your server to activate the changes.
You have now completed your Shoutcast registration and your stream will appear on Shoutcast.com under the genre(s) you specified!